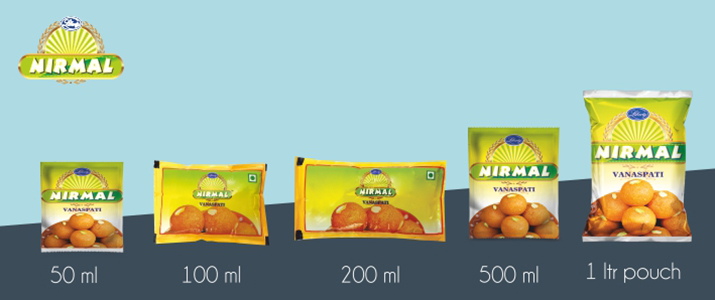 Nirmal Brand Vanaspati:
Nirmal Vanaspati is a general purpose Vanaspati, made to cater daily use, as well as shortening and bakery purposes. Its specially used in the manufacturing of Bread, Biscuits, Cream, Biryani, Sweets, & Parathas.
Biscuits made with Nirmal vanaspati are crunchy & melt in mouth.
It gives a good volume of aerated fat and this can be used as cream fillings with bland flavor & good white shining.
Product is suitable for all in house preparations, bakeries and Horeca.
*Available SKU's: 50 Ml, 100 Ml, 200 Ml, 500 Ml, 1 Litre Pouch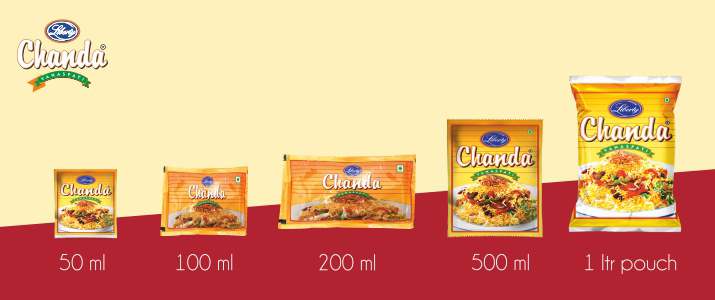 Chanda Vanaspati is a product made from hydrogenated refined edible vegetable oils.
Chanda has the following features:
Is good for general purpose cooking
Is suitable for deep-frying
Is white in color and has a bold grainy texture
It provides excellent shelf life to the fried product
Is fortified with Vitamin A and D
Hydrogenated edible vegetable oils give more shelf life to the final products due to their enhanced monounsaturated and saturated fat content. It also suits deep-frying; therefore it is preferred for making sweets
*Available SKU's: 50 Ml, 100 Ml, 200 Ml, 500 Ml, 1 Litre Pouch